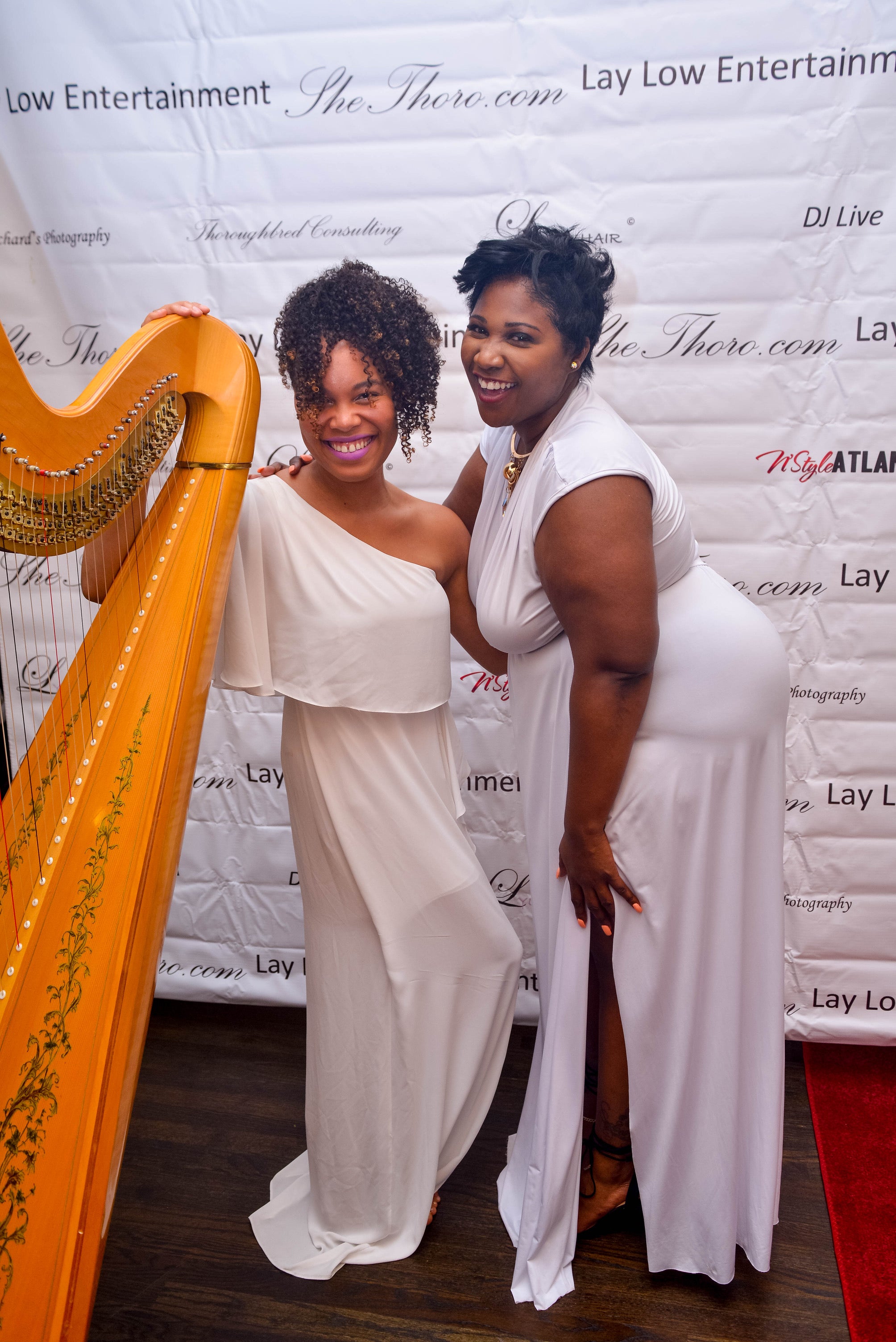 Jun 21 , 2017
I can't believe I am the big TWO. Well, not me of course, but my blog.  My second blog anniversary celebration was definitely the gathering to be at this past Saturday. I was in aah by the amount of love and support that filled the room.  This year I did it a little different than last year and hosted the event at a private mansion.  My close family and industry friends came out to not only celebrate, but to network. Host Johneri'o Scott from Lets Talk with Johneri' O Scott had a chance to interview some of Atlanta's most influential entrepreneurs and my close friends.  My vision for this event was truly met, and I couldn't be more thrilled by its success.
 Saturday June 17th was so much bigger than me.  This event was truly to highlight the people who have contributed to my success. This journey has not been an easy one, but when you have influential people in your life that motivates, it makes the journey a lot easier.  The event kicked off with a private dinner; prepared by Chef Ahmed. He prepared a three course meal and the taste was beyond amazing. The mood was set throughout the entire dinner with musical selections by harpist Maya GG.  I've always wanted a harpist at my event and it was truly a pleasure to have her there.  Before dinner, we did bourbon tasting hosted by Rick Tapia of JR Revelry.  He gave a brief introduction of his signature bourbon and educated us on the history of bourbon. I was emotional throughout the entire dinner as guest gave their well wishes and how much I have inspired them. I was so surprised, because in my eyes everyone at the dinner has inspired me in some way.  It was really a humbling and joyous occasion.
This night was all about the arts.  Celebrity painter Antoine Donte did a live painting of hip hop legend Biggie Smalls.  Another one of my favorite painters, Ashley Strafford-Nesmith of Artnashley did a live abstract painting.  Everyone was thoroughly impressed by how artistic and talented these individuals were. After dinner, guest danced all night to music by Dj Live and Dj Apollo.  They definitely set the tone for the venue and made the place very eventful. I was so glad I had a chance to be amongst so many talented individuals. I'm a firm believer in building and maintaining relationships; which was the whole purpose of the event. I think it is important that we support each other in all of our endeavors and also celebrate with one another.   We work extremely hard as people, and if we just come together more, our path to success will be so much easier.  Again, I would like to thank everyone who took the time out to celebrate this night with me. The joy of knowing that you have people who support you and believe in your passion is remarkable. This event was for you and I can't wait to celebrate my THIRD birthday with you.
Check out some pictures and video from the event. https://youtu.be/cTFcFcnPTMU
*Sponsors | Atlanta Children Shelter | Pretty Girl To GO | JR Revelry | Richard's Photography | DD Sewer Inspections | Lay Low Entertainment | DJ Apollo | NSTYLE Atlanta | Winston McFarlane | Mike Up Top Promotions | Michael D Images | ArtnAshley | Chef Ahmed | Jasmine Lee
*Contributors | Vivian Henson | Tane Henson | Ashley Henson | Portia Henson | Johneri' O Scott | Carmen Simmons | Marcus McCullough | Ardisa Heyward | Iesha Heyward | Kaneshia Harris Scott
---
Blog Images