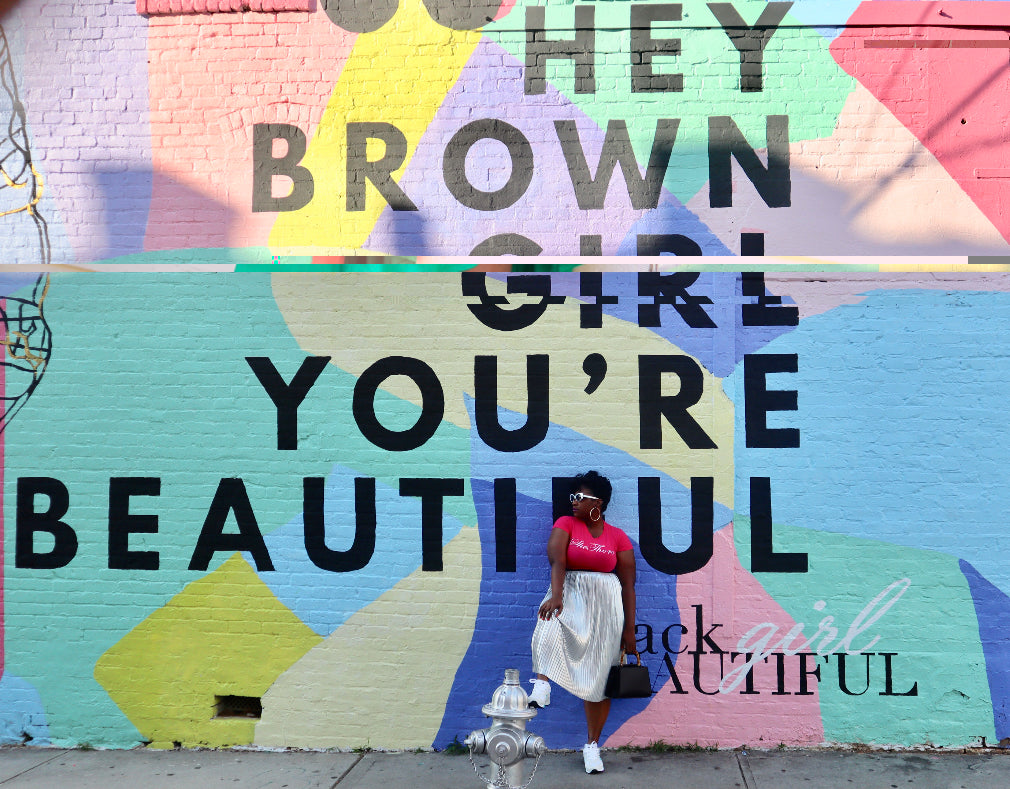 May 21 , 2019
As an entrepreneur, branding is extremely important.  You will usually find me in my signature shirt from my collection, some jeans, leggings, or a skirt, and my sneakers or slides.  Everyone has a t-shirt line these days and that's great.  What's even better is when you can be your own walking billboard and promote the apparel that you sale.  Here's one way that I decided to rock my signature t-shirt to promote in a fun, cool way.
There's something about a signature t-shirt paired with a skirt that I love.  It gives your look a bit more casual appeal, all while turning heads at the same time.  I scored this skirt at Macys for only $35 and instantly fell in love with it.  Its lightweight and chic; and offers even more glam with its metallic-foil pleats. I thought it went perfect with my SheThoro pink baby tee and would complement some of the other colors that I have.  It's important to pair your t-shirt with a bold staple piece so it stands out.  You can accomplish that with a bold purse, some jewelry, or a skirt like I did.  Instead of heels, I decided to pair my look with my new Reebok Aztrek sneakers (See My Reebok Blog Post).
To all my entrepreneurs out there with their own t-shirt line: "ROCK YOUR OWN SHIRTS!" No one is going to support and invest in your business like you will.  Once people see how serious you are about what you do and what you sell, they will also take an interest in it as well.  Besides, I've sold a lot of my apparel by simply being out in public with it on. So, remember to keep it BOLD and cute; always stay unique and most importantly, be you!
Shop This Look Here:
Signature SheThoro Tee: SheThoro Apparel
I.N.C. Metallic Pleated Skirt: Macys
Reebok Aztrek Sneakers: Bloomingdales
---
Blog Images