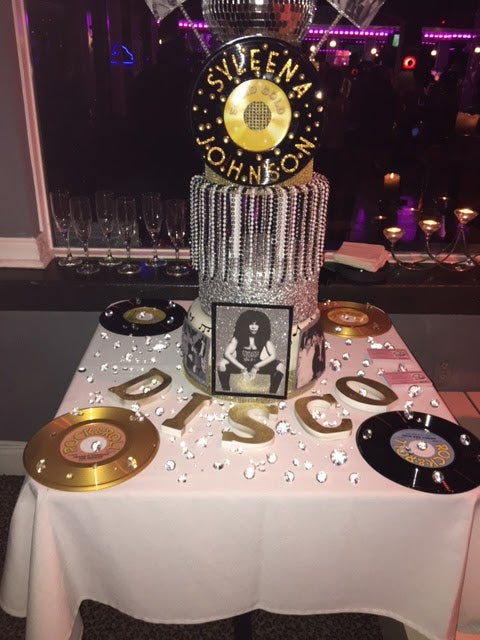 Sep 13 , 2016
In celebration of R&B diva Syleena Johnson's 40th birthday, guests poured into Backstage Lounge on Saturday in their 70's attire for her disco theme bash.  This party was truly the event of the year.  We not only celebrated the life of this legendary singer, songwriter and actress, but we celebrated and era where fashion was visually stunning and music was soulfully liberating.
It came as no surprise that Syleena would have a disco party being the thematic artist that she is.  The "Chapters" in her life has not only been her true testament of evolution, but has cultivated her renewed outlook on life.  Dripped in glitter and gold, she graced us in a timeless two piece outfit designed by celebrity designer Phoenyx Reign.  Her electric bell bottoms and crop top gave us total sexy 70's. We danced the night away to  music by Dj Hershey and Unknownlyric.  Syleena hit the stage with an electrifying performance of some of her greatest hits, including hit single with Kanye West, "All Fall Down." I was in complete awe most of the night; not only by her energetic performance, but how much it felt like I stepped off a time capsule and into a real 70's party.  From the big afros, to the variety of colors that reflected throughout the room, this party was nothing short of amazing. My flared glittery top and bell bottoms with geometric motifs had me feeling myself a bit. I loved this era and grew up on 70's music, so I felt right at home. I couldn't think of a more perfect way for this sensational diva to bring in her 40th birthday.
Syleena true identity shines forth in everything she does.  She embodies how having a relentless passion will allow you to conquer anything.  Syleena is entering into her 40's with so many amazing projects on the way.  Her endless creativity is remarkable and she is a true inspiration to us all.  Luxe is exactly the word I was use to describe this event and I'm so happy I had an opportunity to be a part of it. Happy 40th Birthday Syleena.
---
Blog Images